crusher news: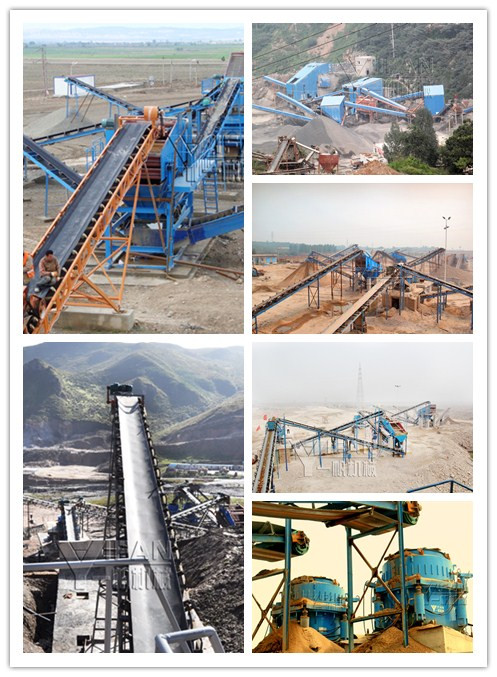 VC sand making machine promote Aggregates Production to accelerate the world high-speed railway construction
High-speed railway construction on concrete gravel aggregate grain shape, made ​​to a very high grading requirements, especially basalt (diabase) flakiness content in the rubble, the previous simple cone crusher or impact crusher processing technology has been not meet the requirements, YIFAN Machinery launch of the VC series Shaft Impact Crusher for crushing and shaping latest crushing and screening process; VC series Shaft Impact Crusher is the production of high-performance concrete (C40 above) aggregate (gravel) and the essential quality stone equipment, through the machine after shaping bone (stone) material flakiness not more than 5%, can fully meet the production of these special industries with high-performance concrete (C40 ~ C80) aggregate technical requirements. VC series Shaft Impact Crusher consisting of sand and gravel aggregate production system, its production capacity 60-830 t / h, product size and graded according to user needs, usually 35 ~ 100mm; gravel aggregates the production of finished gradation and good grain shape, flakiness particle content can be controlled within 5%.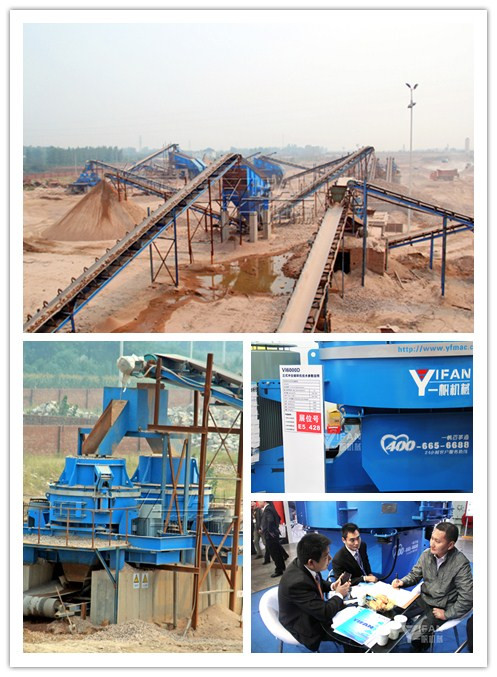 VC sand making machine used in sand and gravel aggregate production line
YIFAN Machinery production of sand and gravel aggregate production line equipment : high crushing efficiency , low operating cost , large output, high-yielding , finished stones uniform particle size , grain shape is good, the national high-speed material requirements , etc., used around the world high-speed railway construction aggregates production. At present, the Chinese government has with the United States , California ( CA ) and General Electric Company has signed a high-speed rail line to help the U.S. build a cooperation agreement . Although the agreement between the parties is just a preliminary intention , but that China aspires to be as high as 350 kilometers per hour speed , environmentally friendly high-speed train technology exporting countries and licensors . In the past few years, China has been ahead of the U.S. in this technology . High- speed rail construction sand and gravel aggregate quality is most important, high-speed railway construction with sand and gravel supply from YIFAN Machinery gravel production line equipment package , the entire device using YIFAN Machinery designed and developed JC series jaw crusher , SMS New Hydraulic Cone Crusher machine , VSI Crusher and YK Series circular Vibrating Screen and conveyor and other related equipment , the entire coarse, medium and fine crushing equipment crushing gravel shaping a comprehensive screening , enabling Nissan standard aggregate 5,000 tons , mainly to meet the high-speed rail construction sand and gravel aggregate demand .
YIFAN Machinery in the world on the basis of advanced technology applications fully integrated domestic market development, developed the gravel production line not only in the domestic market has the absolute share, but also in the international arena has also been highly acclaimed. The company developed the international advanced level of low energy equipment, its performance in a variety of rock crushing ore milling plays an irreplaceable role, especially for high-speed rail gravel aggregate supply. Currently, YIFAN Machinery has been and Indonesia, Australia, Russia, Mongolia, Central Asia, Africa countries trading companies and related enterprises have established close cooperative relations, and in many countries and regions to establish a production and sales outlets, YIFAN Machinery's crushing, sand, and gravel production line screening equipment in the domestic market is showing vitality.
The article by Crusher,Mobile crusher,Crusher Machine YIFAN Machinery Editor: http://www.yifancrusher.com, please indicate the source , little effort , thank you !
Dear friends :
Welcome to Zhengzhou Yifan Machinery Co.,Ltd. To contact us through our website,
Please feel free to give your inquiry in the form below.We will reply you with details ASAP.

PREV:
Jaw crusher manual (Section I)
NEXT:
PE400 * 600 jaw crusher design and manufacturing advantages