crusher news: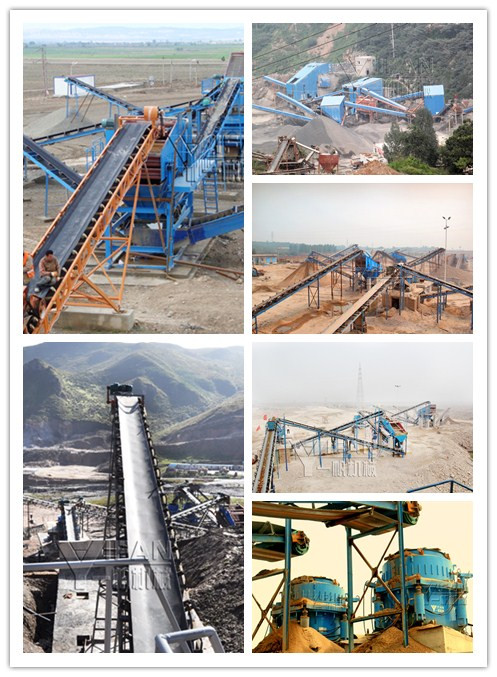 Sand and gravel production line
Sand and gravel production line Introduction:
Yifan machinery design and production of a full set of sand production line equipment , to provide you with comprehensive technical support , gravel production line usually by vibrating feeder , jaw crusher , VI Series vertical impact crusher (sand making machine ) , vibrating screen, sand washing machine , belt conveyor and centrally electric controlling equipment components ; design output is generally 50-500 tons / hour . My company after several years of research and development , with the international advanced level VI series vertical impact crusher ( sand making machine) and other products supporting design a full set of sand production line , is an industry leader .
Zhengzhou Yifan design and production of a full set of the sand and gravel production line equipment can be used for hard limestone , granite , basalt , river pebbles , smelting slag and other materials , aggregates and the artificial sands operations , apply to water, electricity, building materials , highway , urban construction and other industries . Zhengzhou Yifan , depending on the process requirements of the various types of equipment are combined to meet different process requirements of the customers .
Sand and gravel production line process
Stone vibrating feeder evenly sent to jaw crusher for coarse break , rough break after material fed by belt conveyor to the sand making machine for further crushing , crushing materials are transported to vibrating screen for sieving achieve the finished size requirements material is fed into the sand washing machine washing , cleaning shall be finished by the finished product conveyor belt output ; does not meet the the finished size requirements of materials from the vibrating screen returns sand reworked form a closed cycle repeatedly . The product size is to be combined and graded according to the user 's needs . If I choose to dry production process , with the thickness of the powder separation and dust removal equipment .
To sand production line performance
The gravel production line high degree of automation , low running costs , crushing rate, energy saving , large output , less pollution, easy maintenance mechanism sand production in line with national standards for building sand , uniform particle size , grain shape , gradation and . The gravel production line equipment configuration is based primarily on stone specifications , as well as the production and use of stone OK, We provide pre-sale, sale, sale and full-service production site based on customer configuration process , and strive to be the most reasonable for the customer most economic production lines .
Zhengzhou Yifan production design gravel production line in the process of design , the crushing equipment at all levels is a reasonable match , as well as rigorous cross space layout , so it has a small footprint, high economic efficiency of investment , the quality of the recycled aggregate the powder output characteristics of low , and equipped with advanced electronic control operating system to ensure that the entire process the material smooth , reliable operation , easy to operate , energy efficient .
Dear friends :
Welcome to Zhengzhou Yifan Machinery Co.,Ltd. To contact us through our website,
Please feel free to give your inquiry in the form below.We will reply you with details ASAP.

PREV:
Gravel production line
NEXT:
Mechanism of sand production line process